Discover more from Elle's Monologue
Notes from the studio, the road, the inner monologue..
Last month I wrote about how a portrait is a dialogue between artist & sitter; About how there is a visual conversation taking place when a portrait is made, and the anima of the individual(s) is expressed. I suggested that the agency ultimately lies with the artist, who depicts the sitter through various choices… Framing, brushstrokes, lighting, composition…
… Now I want to consider the Self Portrait. What happens when we remove dual participation, and the Artist is confronted with depicting their 'self'?
Elle's Monologue is a reader-supported publication. To receive new posts and support my work, consider becoming a free or paid subscriber.
"It's a power shift from being defined to defining yourself. A reclaiming of identity." - Alannah Ferrell.1
To keep us focussed, I'm looking at photographic self portraits here. Whilst the temptation of abstraction is always strong, not to mention all the different formats we can use (shout out Natasha Motaghi, whose Self Portrait presented a shoe-box of objects at this month's Blue Palms gathering)… in this rambling, we are looking at re-presentational portraits.
*
I'd like to introduce Claude Cahun, a brilliant photographer & activist whose work has laid under the radar for far too long.
Born in 1894, as Lucy Renée Mathilde Schwob, to a literary Jewish Family in Paris, Claude Cahun altered their name to reflect a claiming of identity. Their work, which incorporated photography, writing, collage and covert protesting against the Nazis.
From 1937, Cahun lived with their partner Marcel Moore in Jersey, as the war took hold of mainland Europe. Last month on a rainy day in Jersey, I found the opportunity to visit the Jersey Archives, where I became enthralled by hundreds of self portraits Cahun made during their life time.
It became apparent to me that there are distinct manners of presentation in Cahun's portraits: a 'Theatrical' approach, and a more 'Natural' mode, roughly in correlation to the progression of their life circumstances.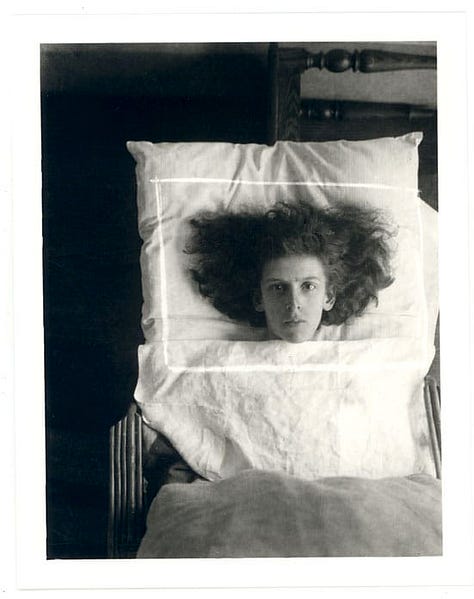 Cahun was involved with theatre, performing in plays such as Pierre Albert-Birot's Le Plateau (1929) and 'Elle' in Bluebeard (1929). Cahun also frequented in surrealist groups, hosting art salons with guests such as André Breton, Sylvia Beach & Adrienne Monnier. Perhaps it is unsurprising that a 'staged' approach crept into the self-portraits, which incorporate masking & theatrics into somewhat performative portrait. Do the different characters reveal a "putting on" of character? An assumption of an alter ego? Cahun finds expression through make-up, costume & gesture, in settings which are typically interior. We are led to follow a narrative that Cahun directs; scenarios that they have set up; and then some which are simply documents of theatre plays which, out of context, are quite surreal.
Comparisons have been made with the works of Cindy Sherman, whose series of Untitled film stills from the 1970s are acknowledged in relation to Cahun. We know from Sherman that she was commenting on societal structures and stereotypes. She created aesthetic self portraits in which she transformed her self to represent another character.2 This was Sherman's conscious choice, the stage-making.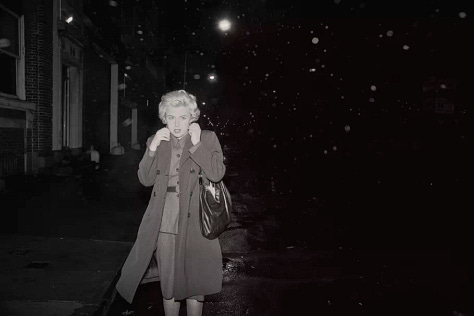 I quite like Jennifer Shaw's observation: "Like Sherman's, Cahun's work, with its denaturalisation of the self, resonated with Judith Butler's theories of the performativity of gender. For Butler, gender + sexuality are not biologically given, but rather come into being as they are performed in relation to a range of social roles and expectations."
"gender + sexuality are not biologically given"
It is impossible to observe Cahun's work without acknowledging gender identity. I have been using pronouns "they/them" for Cahun, on the basis that they were not interested in presenting as masculine or feminine, simply as human. In Cahun's own words, "neuter is the only gender that always suits me."3
It seems that through self portraiture Cahun was able to explore identities; perhaps "put on" feminine or masculine attributes, with gendered mannerisms - as defined by a European society.
In Cahun's later works, they increasingly involved themselves with more natural surroundings: Caves, trees, rocks, with animals…
Was it inspiration from their home in Jersey, and the remote living with their female partner Marcel Moore that encouraged this shift?
Do these portraits represent a revealing of Cahun's natural self, as opposed to their earlier theatrical expressions?
Perhaps age & maturity impacted their sense of self; there seems more ease in these later works, which are more on the documentary side. It brings to mind the notion of "taking" a photograph, as opposed to "making" a photograph.
A literal comprehension would simply be the shift from Parisian city life to a distinctly rural setting; Cahun may simply have been responding to this surrounding and exploring how their body existed in this space. This image on the sand, in 1930, is a bridge between the earlier performative style, and a connection with nature.
A contemporary artist who has also created self portraits in landscapes is Laurence Philomene, a Montréal based non binary photographer who creates 'highly-saturated, cinematic + vulnerable' images. Of an artist residency in Iceland, 2019, Philomene quotes:
"I created imagery that looks at the correlation between Icelandic folklore of Huldufólk ("Hidden people") and my body as a non-binary person, both visible and invisible. The self portraits were shot in the landscape with its shifting tectonic plates, heavy winds and constant state of change. Furthermore, these images explore the idea of [a] trans body as a natural body, becoming one with nature, both always in flux.4
Philomene's photographs, for me, present a rigorous search for the self; an exploration that considers the aesthetic as a mode of external communication, yet is deeply rooted in the artist's personal interior world, one that seeks to align in nature.
Is this not the purest form of self-portraiture?
I'll finish with a quote from Pierre Albert-Birot, with the mind that a self portrait is ultimately performed, on varying levels, by the artist.
"In everyday life, we waste words + gestures because we have to to lose and no-one is looking. But for the actor, a thousand eyes follow his movements and he has only an hour or two to transmit the drama that he performs. It is therefore indispensable that he act and speak with the greatest economy, on stage no waste. Nothing must be lost."5
A special thanks to the Jersey Archives for all your help!
Elle's Monologue is a reader-supported publication. To receive new posts and support my work, consider becoming a free or paid subscriber.
1
https://www.artsy.net/article/artsy-editorial-8-lgbtqia-artists-self-portraiture-expressions-pride
2
https://www.thecollector.com/cindy-sherman-self-portraits/#:~:text=Pioneering%20photographer%20Cindy%20Sherman%20redefined,%2C%20and%20disturbing%20alter%2Degos.
3
https://www.nytimes.com/2019/06/19/obituaries/claude-cahun-overlooked.html#:~:text="Masculine%3F,Cahun%20worked%20at%20upending%20convention.
4
https://www.laurencephilomene.com/huldufolk#1
5
Exist Otherwise: The Life and Works of Claude Cahun. Jennifer L Shaw. (2017)