Discover more from Elle's Monologue
Notes from the studio, the road, the inner monologue..
Rambling.
BODY: IN WATER... and an Open Call.
I wanted to kick—off a new series of ramblings, surrounding the theme that is closely linked with my art practice, as I ceaselessly consider the body in varying spaces.
An official term for this is Proprioception, meaning "perception or awareness of the position and movement of the body"1. It's about spatial awareness, and how we relate our body to our surroundings. Scientifically speaking, proprioception breaks into four types:
the senses of position + movement of our limbs and trunk
the sense of effort
the sense of force
the sense of heaviness2
Over the next few months, I'll be looking at the BODY in varying spaces, with each rambling exploring this in relation to a specific element: water, fire, earth, air. Proprioception will inform this series, with a leaning towards a more artistic interpretation than scientific. I'm making a publication about this, with an open call for you to submit your own work… more on that later.
This month, we're diving in with W A T E R .
(quite literally, for those who attended Blue Palms3 this month!)
When swimming, gravity alleviates. The body responds to the change in viscosity; the change in weight; the change in how to stay afloat. The type of water one is swimming in also affects our experience… I personally find far more joy jumping through the moving tides of the sea than pushing myself through chlorine blue water.
There's something so pure about jumping off some rocks into wild water. Especially when there are fish about - or as I saw earlier this month, a seal! I was visiting some friends in a tiny seaside village just outside of Belfast. You may guess, the temperature was not what you'd first choose to jump into, but 14*C offered the right dare-devil temptation for me.
Cold water swimming has become increasingly popular over the past few years, exemplified brilliantly by Katie Burdon's film about The Blue Tits, a Cornish group of wild water swimmers.
The benefits of immersing the body in cold water are plenty. An increased tolerance to stress due to release of cortisol, a strengthened immunity as blood cell production increases, reduction in inflammation, boost of self esteem (honestly I can vouch for that, I'm such a smug one post-swim), the post-swim high… One study actually suggested cold water immersion causes a longer lasting high than cocaine. We're also in the early days of outdoor swimming being prescribed for depression instead of pills. Awesome.
I absolutely have to mention Antony Gormley's sculpture series - Another Place. Consisting of cast-iron, life-size figures made from the artist's own body, these pieces are strategically placed in different spaces in the UK and internationally.
For our consideration of water, the permanent installation at Crosby Shore comes to mind - where 100 figures are spread along 3km and stretch nearly 1km out to sea. For me, this installation highlights the notion of time/space. The physical space is continuously occupied by a (metaphorically) meditative figure, whilst the surroundings shift from air-to-water and back-to-air as the tides do their thing, signalling change in time.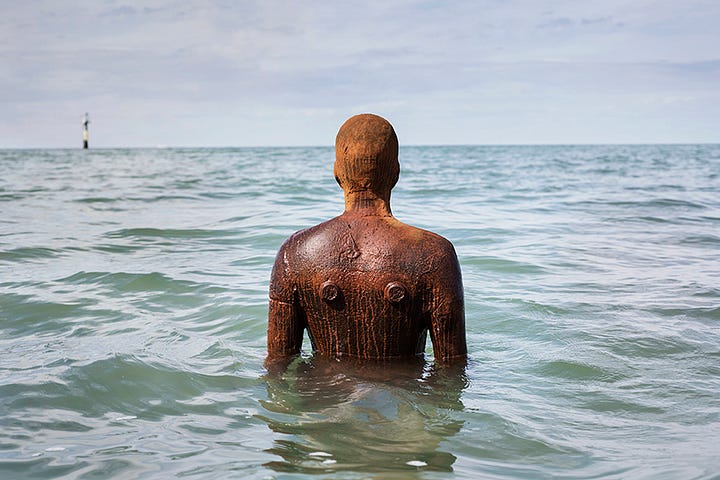 "The curious thing is that I'm quite keen on the idea of temporary treatment of landscapes by sculpture, because I think it's like acupuncture – it allows you to revitalise or anyway look again at something which has become very familiar." - Antony Gormley
Painter Emily Ponsonby uses her direct experience of cold-water swimming to influence her painting. Ponsonby's beeswax work is based upon the Ancient Egyptians' Encaustic process; buffing, scraping and stroking pigment into layers of honeyed wax until forms gently emerge.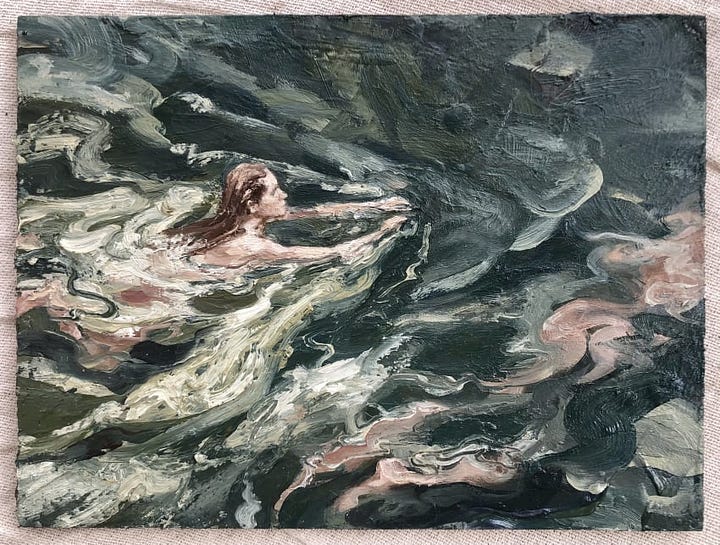 This reminds me of the act of swimming, of being underneath the water, perhaps reaching to the seabed, your mind in some other unknown place, drifting, delving… before rushing upwards into this other world of air and earth and fire. In this way, Ponsonby's figures seem to leap out of their own dreamy waterscapes.
Another form of art, tricky to encapsulate here, is a performance I experienced last month at a Lateworks event, where artists Fee0 & Caius Williams performed as a duo. An experimental piece, listening to the way words (& non-words) were announced in accompaniment with a double bass, was akin to… to looking through a glass of water. One with bubbles. That was shaken up. Then left to stand. Tipped over. Mopped up. Squeeeeeezed back into place. Knocked a bit that way.Bl0wN uP.S h a t t e r e d.
(Honestly, that is the only way I can describe this phenomenal performance. If you're about for any Lateworks or Plates(x5) events, they are a must-experience. Always shaking the mind into new yet familiar territory. Run by the brilliant Joseph Bradley-Hill and Hannah Machover.)
-
Finally I'll round off with an invitation to submit your work. I'm compiling a little publication over the coming months on the topic of Proprioception - Water, Earth, Fire, Air. All part of this whole Blue Palms lark.
If you have any works, whether painting, poetry, photographs, film, sculpture, drawings… whatever format you work in… Let's start talking and seeing how you can be involved.
Please also let me know if you'd like to join us at Blue Palms, which is essentially an informal, in-person get together where we talk art-n-stuff. No requirements to swim in cold water. Next month will likely involve a bonfire.
Elle's Monologue is a reader-supported publication. To receive new posts and support my work, consider becoming a free or paid subscriber.
1
https://www.liverpoolecho.co.uk/whats-on/arts-culture-news/antony-gormley-talks-another-place-9533774 [25.10.23]
2
https://journals.physiology.org/doi/full/10.1152/physrev.00048.2011 [16.10.23]
3
BLUE PALMS - join our next meet up - email me